Include lawn care and garden maintenance for rental properties
Incorporating Lawn Care and Garden Maintenance as a standard part of Rental Agreements, can be beneficial for Landlords, Tenants and Rental Property Managers alike.
For Landlords:
As a landlord, if you live out of town or are simply too busy with your other projects, having a pre-arranged garden and yard maintenance for your investment properties can save a lot of stress and ensure your property value is maintained.
The garden and property appearance play a huge role in your property's value for bank finance, refinancing and property appraisals for rental income; and enticing quality future tenants or buyer.
Nothing is more heartbreaking for a property owner than to see a property that they have invested time and money into decline in appearance and value, as it is not maintained properly by tenants. Having garden maintenance included helps minimize this issue.
If the Tenant does not have the necessary tools and equipment or know how to properly maintain the property and its gardens, it might be in the Landlord's best interests to come to an arrangement about hiring a professional gardener  for regular maintenance and possible splitting or sharing some of the costs.
Too often, gardeners are only called in when things are already well out of hand. This can cause issues with pests such as rats and mice hiding in the garden, and entering the house as well. Rats can then do damage to wiring (down lights, etc), newer plastic plumbing pipes causing undetected leaks, as well as eating insulation in walls and ceiling, etc.
It is vital that the gardens are maintained appropriately, not only for these financial reasons, but also for the harmony of the neighbourhood. No one likes to be neighbours with the worst kept house on the street, and complaints to council can be costly & stressful.
Longer term, you will always attract better tenants if garden and property maintenance is routinely performed.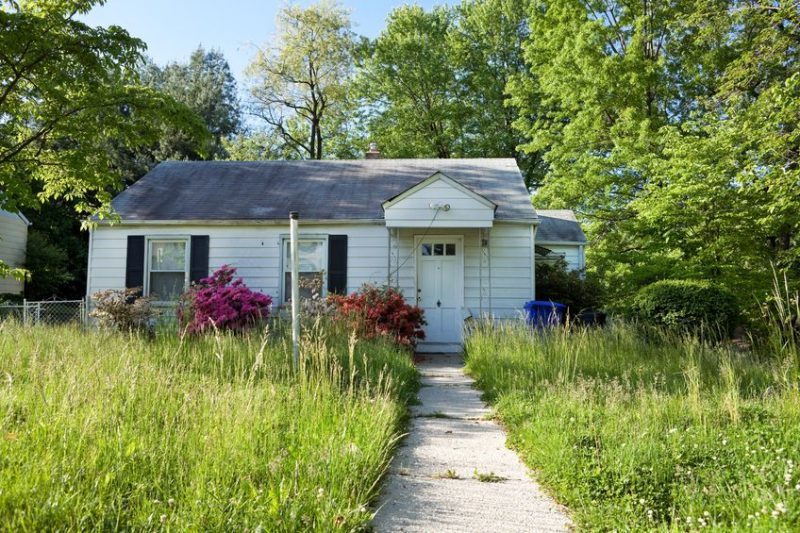 For Tenants:
Tenants might be enticed to think that they will get a lower rental price by offering to do their own garden maintenance. However, unless they are very keen gardeners, it is unlikely to be in everyone's best interest.
Finding the window of opportunity to maintain a garden, while juggling work, family, social commitments around suitable weather – and when it is a clear day – most people can think of things they would rather do. Before you know it, the lawn is overgrown, weeds are taking over the garden beds, and the boulevard is the most overgrown on the street.
If you have hectic daily schedules, it may be impossible for you to stay on top of a cost-effective lawn care routine. By hiring lawn care professionals, you are guaranteed that your yard is well taken care of consistently. They will attend regularly at a time agreed (even if you are not at home) and deal with whatever garden maintenance tasks you agree on.  You come home to a neat garden that you are proud of, and can entertain in rather than have to work in.
Gardening tasks can cause stress, and even arguments among the householders as to who is responsible to do these chores, and when it can be done.
And then there are the additional expenses as well to consider – like purchasing lawn mowing and gardening equipment, storing that equipment security, and maintaining and repairing lawn mowers, sheers, etc.
Unless tenants are avid green thumbs, avoid the stress and ensure the garden is well maintained, and worthy of entertaining friends and family in by outsourcing garden maintenance.  Too often, Jim's Gardeners are called in when the garden is well overgrown; especially back yards.  Instead of getting use of the whole property, and proper value for money for their rental, back yards especially can become a "no go" zone in many homes because the grass becomes overgrown; and the tenants are afraid of vermin, pests, spiders, etc. that might be lurking out there.
Summary:
Like any negotiation, you want to make the offer sweet for the other person. For a landlord, the benefits are usually happier tenants that stay longer; and for tenants it means less stress and maintenance and more free time; as well as better maintained garden.  Ensure both Tenant & Landlord put something in writing that clearly states who is responsible for what, and how often (eg. gutter cleaning, tree pruning, lawn mowing).
If you need help with anything relating to your lawn or garden start working with the best and most trusted lawn care, garden maintenance and backyard care services experts in British Columbia today. Call Jim's Mowing at 310-JIMS or book a FREE QUOTE online today!
Jim's Mowing Canada Service Areas:
Abbottsford. Aldergrove, Ambleside Park, Anmore, Arbutus Ridge, Armours Beach, Atchelitz, Barnston Island, Barrowtown, Beacon Hill Park, Brentwood Bay, Burnaby, Burnaby Lake, Cassidy, Central Saanich, Chemainus, Chilliwack, Clearbrook, Cloverdale, Colvilletown, Colwood, Comox, Comoz, Coquitlam, Cordova Bay, Courtenay, Cowichan Valley, Cultus Lake, Deer Lake Park, Delta, Dunbar-Southlands, Duncan, East Side, Esquimalt, Filberg Park, Gibsons, Glenn Valley, Goldstream, Horseshoe Bay, James Bay, Kerrisdale, Kilgard, Killarney, Kitsiland, Langford, Langley, Lantzville, Lindell Beach, Lighthouse Park, Lower Ten Oaks, Maple Ridge, Marpole, Metchosin, Mission, Mt Burke, Mt Douglas Park, Mt Pleasant, Nanaimo, Northridge, North Saanich, North Vancouver, New Westminster, Oak Bay, Oaklands, Pitt Meadows, Penticton, Port Coquitlam, Port Moody, Promontory, Renfrew-Collingwood, Royston, Ruskin, Saanich, Saanichton, Skaha Lake Park, Sidney, Silver Valley, Sooke, South Vancouver, South Wellington, Squamish, Sunset, Surrey, Surrey Newton, Swartz Bay, Upper Ten Oaks, Victoria, Victoria-Fraserview, View Royal, Walnut Grove, Websters Corners, West Bench, West Vancouver, Westwood Plateau, White Rock, Whonnock, Willbank Creek Park.