LEE NUTT – WHITE ROCK LAWN MOWING
LEE NUTT LAWN MOWING SERVICES

Meet One Of Your Local White Rock Jims!
Lee is a man of many talents who has been providing Lawn Mowing, Fertilizing, Power Raking, Aeration, Top Dressing, Pruning, Pressure Washing and Spring and Fall Clean Ups to South Surrey, White Rock and Langley for 16 years! On his own as a Jim for 14 years, Lee's son Shane decided to come on board to partner with his Dad in 2018, though Shane had 4 years of previous Jim's experience under his belt.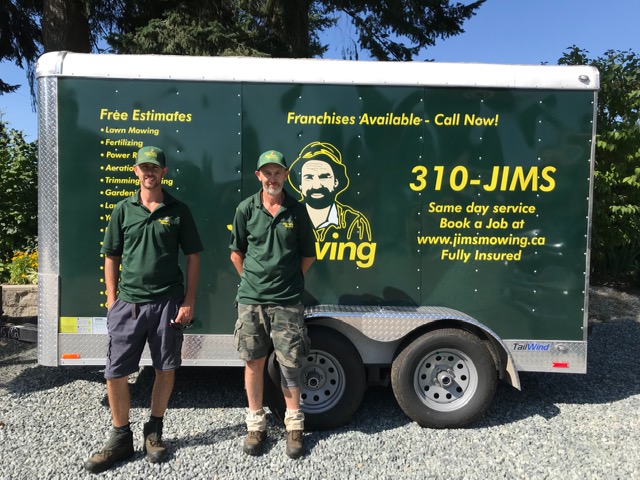 Not limiting themselves to only yard care, Lee and Shane also build decks, arbors and pretty much anything that keeps their hands busy. Besides working side by side with his son, Lee's favourite part of being a Jim is that he is his own boss but still a part of the Jim's family, while Shane adds that there is real value to being able to troubleshoot and bounce ideas off each other.
Using his training as a French Chef for over 25 years, Lee loves to cook at home (which really pleases his wife!) and though he does enjoy relaxing, he spends most of his spare time doing extensive renovations on the homes he buys, while Shane has no time to relax thanks to his adorable young son.
If you would like to book Lee and Shane for a free quote, please call 310 JIMS or book online at jimsmowing.ca.
But don't just take our word for it, see why thanks to our owner operators like Lee and Shane Nutt, Jim's Mowing has become the most trusted Lawn Care services provider in British Columbia with thousands of satisfied customers.
WHITE ROCK SATISFIED CUSTOMER TESTIMONIALS
We are in Surrey and use Shane and Lee Nutt of Jim's mowing.  Reliable, efficient and my lawn looks great!
S Shearer. Surrey, BC


We have used Shane and Lee's services a few times now and are so pleased with their work! It is top quality, well priced, timely, and Shane and Lee are a true pleasure to deal with. We look forward to our next project with them.
Rachel C. White Rock, BC


We have been using Jim's mowing in South Surrey (Lee and Shane Nutt) for several years now.  Their service has always been excellent – with honest and timely communication. Efficient, experienced and punctual.  Would highly recommend!
Dish T. Vancouver, BC


If you live in White Rock / South Surrey & are looking  for exceptional yard maintenance Shane & Lee are your guys.   Each visit has been exceptional. They are service oriented & always exceed expectations.  Plus they are just nice guys too!
Corinne P. White Rock. BC


Amazing service from Jim's Mowing , Lee and Shane take pride in their work , we have been using them for over 10 years and never been disappointed ! I would highly recommend them!
L Porter. White Rock, BC


Contact Jim's Mowing for all your White Rock Lawn Care needs
If you want to work with the lawn care and landscaping professionals with the highest levels of customer satisfaction in White Rock don't hesitate and call Jim's Mowing today. Your lawn will thank you!
Please  Call  310-JIMS today or Book Online for a Local Jim to provide a no obligation quote.
Please review our "Top 10 Reasons to use Jim's Mowing" and you'll understand why Jim's Mowing should be your preferred choice for White Rock lawn care and lawn maintenance services.